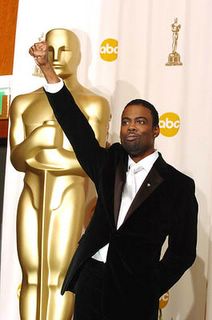 Nat X
hosts the Oscars!

I'll have a full recap later on, but overall I liked Chris Rock as a host -- anyone who gives it right back to
Sean "Pompous Ass" Penn
gets an A+ in my book. For now, enjoy this totally weird photo of
Julia Roberts and Sidney Lumet
: is he introducing her to his imaginary Oscar? Did he write crib notes on his palm? What?
UPDATE:
OK, what can I say but, "Marty was robbed!" The show moved along at a good clip (though I loathed the "roving presenters" in the back of the auditorium) and once
The Aviator
started racking up awards, I felt a surge of hope...but it was quashed by the mysterious appeal of Clint Eastwood. Like Robert Redford, he's a much better director than actor (he's also a better actor by far than Redford in my book), but his material choices leave me cold. His movies are beautifully crafted, but the stories they tell are cold, regretful, and outrageously melodramatic -- only by the sheer talent of the actors he chooses does he achieve the appearance of epic drama, and not slip into soap opera. I guess that's an achievement in itself. But come on:
Scorcese,
man! What a body of work! Filled with great acting and vivid American energy! And
The Aviator
itself was great; it took a hell of a lot longer than 37 days to shoot it. Hmmm, could the Academy be put off by the unapologetically neurotic, NYC-centric, gnomish non-actor? I wonder...
UPDATE II:
Check out the
obscenely luxurious gift basket goodies
presented to the nominees, presenters, and assorted Oscar hangers-on -- can celebrities not pay for their own olive oil now?