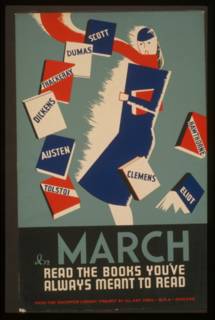 More vintage poster fun.

The Library of Congress has a selection of
WPA poster art
from the 1930's and 40's online; click "Collection Highlights" to see more like this gem. I think if I tried to read one book by each of those authors in a month, I'd have to forgo sleep and nourishment...but it's a noble idea. I am a little ways into
Anna Karenina
(or, as Nat insists,
Banana
Karenina, hee hee), and it's great...though I admit I've been pulled away by
this recent purchase
.