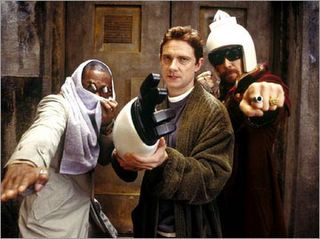 DON'T PANIC!

This weekend's
Ticket Stub
was happily torn at a matinee of
The Hitchhiker's Guide to the Galaxy
, alongside Nat, Jon, Kate & Barry, and a merry cross-section of Boston geek society, from ages 8 and up (it's PG!). When adapting a beloved, quirky, British space fantasy in which the hero wears a bathrobe, dry wordplay and gentle existentialism dominate the dialogue, and the Earth is destroyed in the first five minutes, things could go very, very wrong. But they don't -- how improbable! The film balanced cleverness with goofiness very well, capturing the everyday shlub Arthur (played by everyday shlub Martin Freeman, from
The Office
and
Love, Actually
) and his alien compadres with equal accuracy. It came off as a smart, diverting adventure, not a long, dull in-joke. Excellent casting is the key, as well as not overdoing the special effects. I had a
different Trillian
in mind (why pick an American?!), but Sam Rockwell as Galactic President Zaphod Beeblebrox went deliciously over the top with a sort of glam rock sendup of
a certain fearless leader
, hee hee. Mos Def and Alan Rickman need more scenes in the sequel -- please let there be a sequel...hey, how often do you say
that
?
(A)